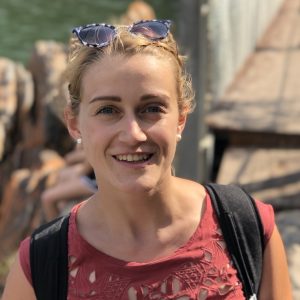 Doctoral student
Contact
Email: jkierdorf@uni-bonn.de
Tel: +49 – 228 – 73 – 60848
Office: Niebuhrstr. 1a, 3rd floor, room 3.006
Research area
I am currently working in the TrAgS Project. In this project, we track the use and adoption of agricultural technologies through satellite remote sensing and self-supervised deep learning.
From 01.2022 until 12.2022, I worked in the OPTIKO project, which focused on the topic of optimizing cauliflower cultivation through monitoring with UAVs and machine learning. Our overall goal was the analysis of the growth and development of cauliflower and the derivation of phenotypic traits to foster the development of automation in agriculture.
However, my area of interest extends to other applications of remote sensing that can be analyzed using ML.
Publications
J. Kierdorf and R. Roscher, "Reliability scores from saliency map clusters for improved image-based harvest-readiness prediction in cauliflower,"

Ieee geoscience and remote sensing letters

, 2023.
[Bibtex]

@ARTICLE{kierdorf2023reliability,
author={Kierdorf, Jana and Roscher, Ribana},
title={Reliability Scores from Saliency Map Clusters for Improved Image-based Harvest-Readiness Prediction in Cauliflower},
journal={IEEE Geoscience and Remote Sensing Letters},
year={2023},
DOI={10.1109/LGRS.2023.3293802},
ISSN={1558-0571}
}
J. Kierdorf, L. V. Junker-Frohn, M. Delaney, M. D. Olave, A. Burkart, H. Jaenicke, O. Muller, U. Rascher, and R. Roscher, "Growliflower: an image time-series dataset for growth analysis of cauliflower,"

Journal of field robotics

, vol. 40, iss. 2, p. 173–192, 2023.
[Bibtex]

@article{kierdorf2023growliflower,
title={GrowliFlower: An image time-series dataset for GROWth analysis of cauLIFLOWER},
author={Kierdorf, Jana and Junker-Frohn, Laura Verena and Delaney, Mike and Olave, Mariele Donoso and Burkart, Andreas and Jaenicke, Hannah and Muller, Onno and Rascher, Uwe and Roscher, Ribana},
journal={Journal of Field Robotics},
volume={40},
number={2},
pages={173--192},
year={2023},
publisher={Wiley Online Library},
url={https://doi.org/10.1002/rob.22122},
doi={10.1002/rob.22122}
}
J. Kierdorf, I. Weber, A. Kicherer, L. Zabawa, L. Drees, and R. Roscher, "Behind the leaves: estimation of occluded grapevine berries with conditional generative adversarial networks,"

Frontiers in artificial intelligence

, vol. 5, 2022.
[Bibtex]

@ARTICLE{kierdorf2022behind,
author={Kierdorf, Jana and Weber, Immanuel and Kicherer, Anna and Zabawa, Laura and Drees, Lukas and Roscher, Ribana},
title={Behind the Leaves: Estimation of Occluded Grapevine Berries With Conditional Generative Adversarial Networks},
journal={Frontiers in Artificial Intelligence},
volume={5},
year={2022},
url={https://www.frontiersin.org/article/10.3389/frai.2022.830026},
DOI={10.3389/frai.2022.830026},
ISSN={2624-8212}
}
J. Kierdorf, J. Garcke, J. Behley, T. Cheeseman, and R. Roscher, "What identifies a whale by its fluke? on the benefit of interpretable machine learning for whale identification,"

Isprs annals of photogrammetry, remote sensing and spatial information sciences

, vol. V-2-2020, p. 1005–1012, 2020.
[Bibtex]

@Article{kierdorf2020whale,
AUTHOR = {Kierdorf, J. and Garcke, J. and Behley, J. and Cheeseman, T. and Roscher, R.},
TITLE = {What Identifies a Whale by its Fluke? On the Benefit of Interpretable Machine Learning for Whale Identification},
JOURNAL = {ISPRS Annals of Photogrammetry, Remote Sensing and Spatial Information Sciences},
VOLUME = {V-2-2020},
YEAR = {2020},
PAGES = {1005--1012},
URL = {https://www.isprs-ann-photogramm-remote-sens-spatial-inf-sci.net/V-2-2020/1005/2020/},
DOI = {10.5194/isprs-annals-V-2-2020-1005-2020},
Owner = {ribana},
Timestamp = {2020.05.06}
}
M. Günder, F. R. Ispizua Yamati, J. Kierdorf, R. Roscher, A. Mahlein, and C. Bauckhage, "Agricultural plant cataloging and establishment of a data framework from uav-based crop images by computer vision,"

Gigascience

, vol. 11, 2022.
[Bibtex]

@article{gunder2022agricultural,
title={Agricultural plant cataloging and establishment of a data framework from UAV-based crop images by computer vision},
author={G{\"u}nder, Maurice and Ispizua Yamati, Facundo R and Kierdorf, Jana and Roscher, Ribana and Mahlein, Anne-Katrin and Bauckhage, Christian},
journal={GigaScience},
volume={11},
year={2022},
publisher={Oxford Academic},
url={ https://doi.org/10.1093/gigascience/giac054},
DOI={10.1093/gigascience/giac054}
}
J. Kierdorf, L. Zabawa, L. Lucks, L. Klingbeil, H. Kuhlmann, and others, "Detection and counting of wheat ears by means of ground-based image acquisition.,"

Bornimer agrartechnische berichte

, iss. 102, p. 158–167, 2019.
[Bibtex]

@article{kierdorf2019detection,
title={Detection and Counting of Wheat Ears by Means of Ground-based Image Acquisition.},
author={Kierdorf, J and Zabawa, L and Lucks, L and Klingbeil, L and Kuhlmann, H and others},
journal={Bornimer Agrartechnische Berichte},
number={102},
pages={158--167},
year={2019},
publisher={Leibniz-Institut f{\"u}r Agrartechnik und Bio{\"o}konomie eV (ATB)}
}
Project and Employer